Lidar integration in 5 steps
Autonomous vehicles, such as AGVs, detect the distance to objects using lidar. Solid collaboration is vital for successful integration. Lidars are complex technologies and they must always be integrated with other hardware and software. At our stand at the Automation 2019 trade fair, we demonstrated lidar via a demo. You can read about what the integration of lidar entails further in this 5-step plan.
To build an autonomous vehicle, multiple types of sensors must be combined. Lidar is combined with cameras, GPS and other technologies for reliable measurement.
What advantages does lidar offer?
The various lidar modules distinguish themselves by field of vision, viewing angle and price. Due to its good performance under difficult circumstances such as rain and snow, this technology is a very usable option for both interior and exterior applications.
Lidar's advantages:
Generation of a great deal of usable data
Large field of vision with high resolution, over a 360-degree viewing field
Easy to embed due to its small and robust construction
Many possibilities for software personalization, such as selecting range and update frequency
Noise suppression with rain or snow and at night
Accurate detection of both stationary and moving images
High precision in distance measurement and repeat accuracy
Aids in efficient movement and cost-savings
Optional: resistance to shocks and vibrations
Solid-state lidar
effortlessly uses accumulation to measure the distance to objects – even in rain, snow and sunlight.
5-step plan for the integration of lidar
Having your vehicle drive independently involves many issues. These range from identifying your application to the translation of data into usable information. Furthermore, multiple technologies must be combined. This 5-step plan shows how you can integrate lidar into your vehicle.
Identify application
Together with you, we identify your application by asking critical questions. These can be about the desired range and viewing angle, but the application area is also important: Will your vehicle drive in an enclosed area such as a warehouse, or will it be used on public roads?

Select the right suppliers for components
We select our component suppliers based on a passion for technology, a focus on solutions, and reliability. That's how we guarantee the quality of the final product.

Integrate hardware and software
For a reliable as well as safe measurement, combine lidar with other technologies. To do this, you need to integrate various hardware and software components. Together, these systems collect a great deal of data that culminate in a map out the vehicle's surroundings.

Translate data into usable information
The large quantity of data is processed – for example, converted into a detailed point cloud of the surroundings. This allows your vehicle to 'see' the distances to surrounding objects and items by scanning lidar.

Integration into your vehicle
You receive your lidar as a total solution. With the help of our sensor expert, you can integrate the lidar technology into your vehicle.
Integrate lidar into your vehicle
When integrating lidar into your vehicle, you must take many issues into account. In addition to the integration of hardware, you must also think about software integration. To do this, specialists in diverse areas of expertise are required.
Our sensor experts collaborate with the right parties to successfully integrate lidar into your vehicle.
Recap of Automation 2019
Automation is a trade fair for the packaging and logistics industry. The second edition of this fair took place in the Brabanthallen in the Netherlands on April 3 & 4, 2019. Some 80 specialist companies and knowledge institutions exhibited at the fair.
Our illusionist Sven ensured that there were plenty of surprised visitors to our stand. Many visitors took on the challenge of his tricks with sensors.
Trade fair photos
Our expert:

Sean Ram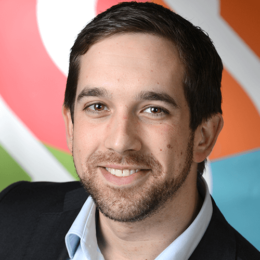 e-mail Sean