How can you earn money with Internet of Things applications?
It cannot be ignored that Internet of Things applications are popping up in every sector. They offer a myriad of possibilities and opportunities for entrepreneurs. But despite successful business cases, many entrepreneurs are not yet ready to take the step toward IoT. What often stops them is the return on investment and inter-company collaboration. How can you deal with challenges that emerge when building an IoT business case?
The Internet of Things requires new business models. This causes shifts in the markets and puts pressure on the competition. When entrepreneurs see that competitors are taking steps toward improving their development and market approach, they are in turn encouraged to use this technology themselves. It's important to not lose sight of the fact that IoT is simply a means to an end.
During the KKBL (Kennis Kring Brabant Limburg) member event, Sentech welcomed 21 guests from the industrial sector. They exchanged their own experiences and thoughts on the commercialisation of IoT applications. A number of tips on building successful business cases were shared, for example focusing on one or more markets and examining the needs and issues of end users. Use these issues to investigate opportunities for increasing demand for your application.
Challenges facing IoT business cases
When it comes to process improvement or cost savings, ask yourself how you can achieve this with IoT. This technology allows you to collect a great deal of data, but what do you need to measure and store in order to achieve your desired results? The added value of IoT applications lies in collecting, extracting and offering the right data, and doing this in a way that is easy to interpret. Think in business relationships and organise a brainstorming session with a data analyst.
Inter-company collaboration
Successfully implementing IoT requires a number of different competences. That means that different components and different specialisms are required.
Hardware that collects data → hardware specialist
Internet connection that transports data → provider
Cloud service in which data is stored → IT service provider
Translating high amounts of data into usable information → data analyst
Front-end, where the (translated) data is displayed to the end user → front-end developer
Making money with Internet of Things applications
IoT paves the way for new business models. In order to achieve a successful business case, it is wise to think in terms of services rather than products. Ton van den Broek, Sales Consultant at Sofon and KKBL member sees it like this: "IoT makes it technically possible to offer products and services in a way that was previously impossible."
Instead of purchasing a machine, the customer pays to use it. "This results in the company being forced to think about how the customer will pay for the use of the machine. There is also the scenario where another party has an interest in the service and wants to invest in it. In order to achieve a successful business model, you first have to search for parties that have an interest in the service," explains van den Broek.
The success of Internet of Things is not in the hardware itself, but in the data and its application. Many companies that are focused on products find it difficult to build an IoT business case. This is because IoT business cases have to be created using a service-oriented approach. Van den Broek added: "The company will have to support its employees in a different way of thinking if the business case is to get off the ground."
Examples of IoT business cases
A waste processor charges customers for a guarantee that waste receptacles will never get full.
A contractor

charges customers for a clean property.
A sugar supplier supplies ice cream manufacturers with the amount of sugar needed, in line with the weather forecast.
In addition to these examples of service provision, the Internet of Things can also lead to cost savings by making machines smarter. Because fewer operators are required to operate the machines, customers get a return on their investment.
Jan Tops, Engineer and KKBL member adds: "IoT is a linked application made up of hardware and a user interface. Actually, only the latter is interesting for the customer. This is where the added value of the application is created for the end user."
From a business point of view, Tops finds it interesting that business models can be applied to a variety of positions throughout the chain. "From the investor to the production of resources and their implementation. Every position in the chain requires different qualifications. Shifting position in the chain requires attention and time in order to recognise and bring together specialisms," he said.
Better market position through data collection
With IoT applications, the investment may only be recovered after a longer period. In some cases, data must first be collected for a certain period of time before the end user is able to use the data.
Account Manager Sean Ram cites a common example from the agro sector: "IoT is used to collect a lot of data on agricultural vehicles – on soil conditions and how crops grow. Here, the end user is not yet able to use this data. In the future, this data will be used to develop better machines and applications that help them stand out from the competition."
How do you market IoT?
Your Internet of Things application is aimed at making life easier for the end user. In many cases, although a need for improvement exists, this is not seen as problematic. There must be a hardship or reason to change before the customer will be interested in investing. When end user issues increase, the chances are higher that customers will want to invest in IoT.
Tips
Focus on one or more markets and examine the needs and issues of end users.
Use these issues to investigate opportunities in order to increase demand for your application.
Think in terms of service-oriented rather than product-oriented business models.
Formulate the added value for the end user.
Estimate the yield of the investment for the customer after X amount of time. Describe these points in terms that are as concrete as possible.
How do you successfully apply IoT?
Do you want to use IoT to create new business opportunities for your company? But you don't know where to start?
Get inspired to create your own IoT application.
Our expert:

Jeroen de Bruin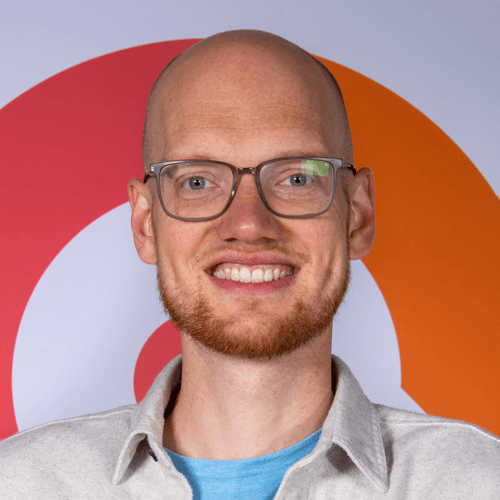 e-mail Jeroen